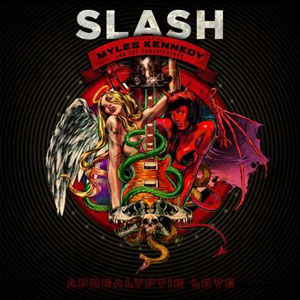 Den 22 maj släpper Slash sitt nya album Apocalyptic Love. Medlemmar förutom Slash är Myles Kennedy på sång, Todd Kerns på bas och Brent Fitz på trummor.


Slash berättar att albumet spelades in på ett demokratiskt sätt vilket han inte är van vid. Han säger, "Maybe after all these years I've paid my dues and I've earned a band that I can just have a good time with. Everyone gets along, everyone plays great and we have a blast. I'm supposedly the boss, but I'm not a dictator" – även om Slash gillar att ha ansvaret som ledare över bandet, "I think it fits my personality. It's nice to be able to pick and choose my own destiny without having to ask anybody or look over my shoulder to see if anyone approves. But at the same time I'm very much a band guy."


Låtlista Apocalyptic Love:
1. Apocalyptic Love
2. One Last Thrill
3. Standing In The Sun
4. You're A Lie
5. No More Heroes
6. Halo
7. We Will Roam
8. Anastasia
9. Not For Me
10. Bad Rain
11. Hard & Fast
12. Far And Away
13. Shots Fired
14. Carolina
15. Crazy Life

Här under kan du lyssna på You're A Lie från albumet.