IRON MAIDEN GÖR YTTERLIGARE KONSERT I SVERIGE – SPELAR PÅ MALMÖ STADION DEN 10 JULI
Efter den enorma efterfråg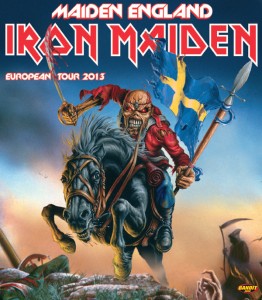 an när vi för några veckor sedan släppte biljetterna till Iron Maidens konsert på Friends Arena, som sålde slut rekordsnabbt, kan vi nu meddela att de kommer göra ytterligare en konsert i Sverige. MAIDEN ENGLAND EUROPEAN TOUR intar Malmö Stadion den 10 juli.
VIKTIGT: Biljetterna till konserten med Iron Maiden i Malmö den 10 juli säljs via Eventim. Du kan köpa dem på LiveNation.se, Eventim.se, Eventim-ombud och callcenter 0771-651 000. Dessa släpps till försäljning fredag den 26 oktober kl 9.00.

Som vi nämnt tidigare kommer MAIDEN ENGLAND EUROPEAN TOUR, när det kommer till scendesign och låtlista, mer eller mindre helt spegla den klassiska konsertvideon från 1988 som hette just "Maiden England". Videon filmades under turnén "Seventh Son Of A Seventh Son Tour".
MAIDEN ENGLAND markerar det tredje kapitlet i Historien om Iron Maiden, en resa som startade 2004 med DVD:n "The Early Days" som följdes av 2005 års "Early Days Tour". Det andra kapitlet i historien inleddes 2008 då DVD:n "Live After Death" släpptes – DVD:n innehöll den nyskapande konserten på Long Beach Arena från turnén "World Slavery Tour" från 1984. Denna DVD följdes sedan av banbrytande "Somewhere Back In Time World Tour" 2008-2009, där de spelade för över 2 miljoner fans i nästan 40 länder, flygandes mellan fem kontinenter i deras specialgjorda Boeing 757 som döpts till Ed Force One. Bruce Dickinson själv var pilot och detta kan man bevittna i DVD:n "Flight 666".
Låtlistan från konserterna i Nordamerika på samma turné: Moonchild, Can I Play With Madness, The Prisoner, 2 Minutes To Midnight, Afraid To Shoot Strangers, The Trooper, The Number Of The Beast, Phantom Of The Opera, Run To The Hills, Wasted Years, Seventh Son Of A Seventh Son, The Clairvoyant, Fear Of The Dark, Iron Maiden, Aces High, The Evil That Men Do, Running Free.