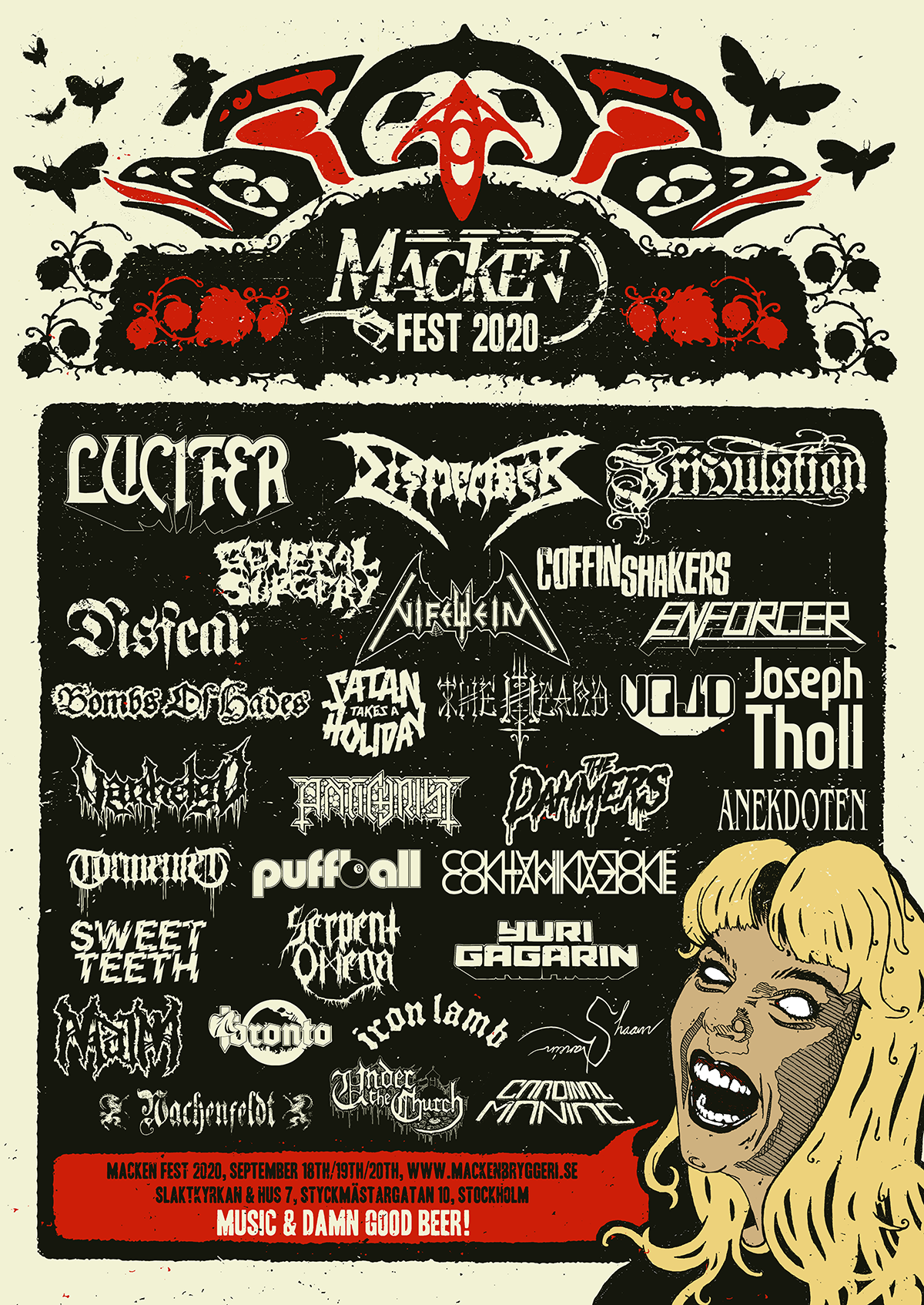 Macken Fest 2020
18 – 20 september 2020
Slaktkyrkan & Hus 7
Tribulation är sista huvudakten som bokats till Macken Fest 2020!
30 band
30 specialbryggda öl
Gäst  DJ´s
I dessa tider av Covid-19 kanske det är vansinne att boka en stor festival i dagarna tre innan någon vet hur det blir i framtiden. Men att göra vansinniga saker och aldrig vara rädd för att pröva något nytt är lite av Andres Furukawas signum, och idag släpps 50 biljetter (Early Owls!) till Macken Fest 2020.
Andres är född I Mexico City och har studerat sig till en doktorand i ölbryggning och matkemi i Skottland, Mexiko City, Berlin och hamnade i Sverige genom kärleken till Svensk dödsmetall och rock. Utöver att släppa skivor med band han gillar, ordna en  festival på Kafe44 (2009) så startade Andres även ett litet bryggeri under namnet Macken, och det har gått väldigt bra och nu är Macken ett etablerat märke med fint rykte.
I September fyller bryggeriet Macken 10  år och släpper öl nummer 30, det firas med denna fest i dagarna 3!
Line-up:
Fredag 18 September 2020:
Dismember, Nifelheim, General Surgery, Bombs of Hades, Vanhelgd, Tormented, Antichrist, Under The Church, Cardinal Maniac, Maim
Lördag 19 September 2020:
Lucifer, Disfear, Satan Takes A Holiday, The Dahmers, VOJD, Puffball, Iron Lamb, Sweet Teeth, Tøronto
Söndag 20 September 2020:
Tribulation, Enforcer, The Coffinshakers, Joseph Tholl, Anekdoten, Yuri Gagarin, The Heard, Serpent Omega, Wachenfeldt, Contaminazione, Shaam Larein
Idag släpps 50 stycken "early owl tickets" till rabatterat pris
Du hittar biljtter via Tickster här
Alla 3 dagar – 1795 sek
Endagsbiljett – 795 sek
Andres berättar mer om Macken Fest och Bryggeri:
Macken Bryggeri is a craft brewing business based in Stockholm, Sweden.
We are celebrating a 10-year journey brewing specifically an array of 30 top-quality ale and lager delicacies brewed by Brewmaster and PhD in Brewing Andrés Furukawa.
The foundation of the beers were based on our label concept and visuals conceived by Andrés Furukawa and designed by local artist and musician Jonathan Hultén, with a healthy dose of worldwide stylistic influences, personal background stories, intriguing cultural themes and imagination with the hope of proposing a genuine holistic experience to those souls out there, who appreciate craft brewing and art with expressive authenticity. 
The involved bands and multidisciplinary artists performing in this festival are those that a member or members artistically collaborated with Macken Bryggeri during this 10-year journey creating art with integrity. Sources of beauty and horror. Intriguing and wonderful. 
– Andres Furukawa
Mer information:
http://mackenbryggeri.se/contact.html
https://www.facebook.com/mackenbryggeri
https://www.instagram.com/macken_bryggeri/