Roadrunner Records / Snakepit Records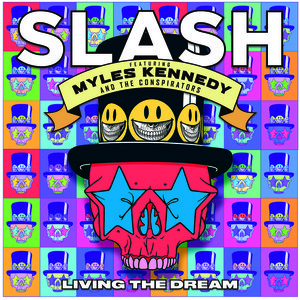 Släpps den 21 september
Allas vår gitarrguru Slash (Guns N' Roses,Velvet Revolver m.fl) är tillbaka med sin gode vapendragare Myles Kennedy (Alterbridge). Tillsammans slår dom ihop sina skallerormar och ger sig för tredje gången in i studion med konspiratörerna i The Conspirators för att leverera klassisk rock 'n' roll.
Vildsinta och upplyftande The Call Of The Wild öppnar fullängdaren med energi och fräscha gitarrlicks. Det pirrar i kroppen att åter få höra Slash och Myles skapa ihop. Öset fortsätter i Serve You Right som är en blivande självklar raket. Spektakulära My Antidote överraskar med ett dieseldoftande tungt intro som sedan möts upp av ljuv skönsång. I magiska Mind Your Manners visar dom vilka stjärnor på rockhimlen som är deras. Andra maltkorn ur ölglaset är käftsmällen Read Between The Lines och trallvänliga Driving Rain.
Som alltid är det spännande att höra vad Slash hittat på när han arbetat solo och trots ett flitigt turnerande med Guns N' Roses har tiden funnits för att lyckas skapa nya intressanta element. Det som lyfter skivan (som för övrigt ges ut på gitarristens eget skivbolag Snakepit Records) är Myles eminenta sång. Man känner att deras gemensamma resa går mot ett liv i drömmarnas värld fylld av guldmikrofoner och Gibson-gitarrer.
Betyg: 8/10
Spår
1. The Call Of The Wind
2. Serve You Right
3. My Antidote
4. Mind Your Manners
5. Lost Inside The Girl
6. Read Between The Lines
7. Slow Grind
8. The One You Loved Is Gone
9. Driving Rain
10. Sugar Cane
11. The Great Pretender
12. Boulevard Of Broken Hearts
Medlemmar
Slash – gitarr
Myles Kennedy – sång
Todd Kerns – bas
Brent Fitz – trummor