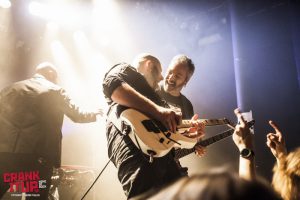 Det svenska metalbandet Soilwork kommer visa sitt stöd under "military appreciation day" den 14:e november genom att vara närvarande under hockeylaget New York Islanders hemmamatch mot Tampa Bay Lightning. Bandet kommer delta i intervjuer, kasta ut bandmerch och visa upp en "fan hype video". Soilwork musikvideos kommer också att spelas mellan i pausen för att hålla publiken pumpad.
Att få vara en del av matchen är en stor ära, och hockeyentusiasten samt vokalisten Björn "Speed" Strid har kommenterat som följande: "I started playing hockey when I was six and stopped when I was sixteen. I played in a local team called Landskrona, which also featured current NHL athletes. I was chosen among three other players from my club to be a part of Skåne Team in 1994, which featured the best players from the southern region of Sweden. Slowly after that I picked up the guitar and was blown away by the kick playing music gave me." … "I left my hockey career behind me and focused 100% on music but always looked back. Hockey has always been a big part of my life and while living in Toronto for five years, I played a lot of "shinny" – beer league hockey. I also got the chance to get to know Nikolay Kulemin."
Spektaklet kommer äga rum på Barclays Center i Brooklyn, New York. För de som inte kan närvara så finns streaming att tillgå på TGA Sports, MTG+ samt SUN Sports respektive TV kanaler.
För närvarande är bandet i slutskedet av sin turné Fury Tour i Nordamerika. Platser och datum för spelningarna finns här: http://www.furytour.com
Foto: Sandra Thulin