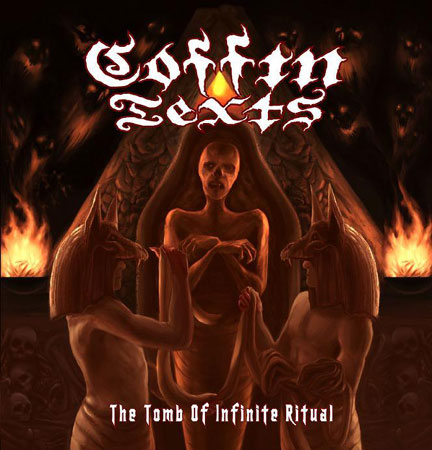 Ett av Kaliforniens stora underground death metal band Coffin Texts släpper sitt nya album The Tomb Of Infinite Ritual till sommaren via Dark Descent Records. Vinylversionen via Blood Harvest Records och den digitala versionen över iTunes via Apparition Music.


Press meddelande:
The Tomb Of Infinite Ritual shows Coffin Texts at their very best. While the musicians themselves have developed and perfected their skills, the same spirit and approach to death metal remains true and intact."


Bandet kommenterar:
"It's finally here! Five years of blood, sweat and tears to get this completed. We want to thanks John Haddad for the great work producing this album and a 'horns up' to all our fans worldwide!!"


Låtlista The Tomb Of Infinite Ritual:
1. Atum (Into The Divine Sphere)
2. To Manifest
3. Final Transformation
4. The Sacred Eye
5. Divination
I. Soothsayer
II. The Invocate
III. Eternal Oath
6. Throne Of Genocide
7. Dieties Of The Prime Evil Chaos


Här under kan du se videon till Final Transformation från det kommande albumet.