Awoke to what appeared to be a very loud phone conversation from the room next door… very tired we tossed and turned to the fastest, loudest spanish person speaking on the planet. I Swear!  I yelled out to be quiet ('cállate') but no such luck (he probably couldn't hear me through the walls of his own voice let alone the walls of the hotel) so after what seemed like an eternity I couldn't take it anymore and decided to take matters into my own hands!
With one eye open, eye mask on top of my head, and drumstick pjs (girl got style!) I made my way round the corner to the culprits! The door was open and said culprit was actually not one but two men dressed in suits so I shouted 'is there a meeting going on in here or something'?I told them we were trying to sleep so could they please keep it down and the apologies flowed in! Heading back to the room I felt slightly accomplished  until an hour later they were back….grrrrrr!
We got up and headed out to lunch whilst Filippa rested as she now too is not feeling well…we love spreading our germs round this band (cough cough miss Ström!)   
We headed into a tattoo parlour as we all thought it might be cool to get a tatt done whilst on tour! The girls said they would have a think about it whilst I gave over a deposit for mine for tomorrow morning!
Had an amazing lunch, after looking through a few 10euro stores, and of course more sangría….this stuff is seriously addictive!:) 
The tattoo parlour called to see if I
    could come in this afternoon..sweet! So at 4.30pm myself and Tilda (for some moral support) headed over. When we walked inside he had 'shoot to kill' playing on youtube (more views…cheers!) and had even printed off a poster of us to sign!
Ironically (or by means of fate…) the machine used to do my tatt was called 'thunder'! Im feeling a song coming on about this ha!      

Here is a picture of what I had done! (Feminism is something we girls individually and collectively stand for!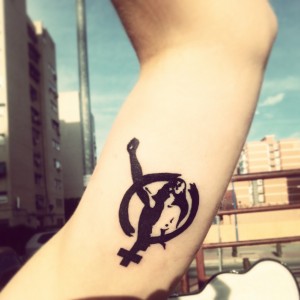 That evening, after Filippa had her he interview with "Aftonbladet" via telephone, "Hårdrocksbilagan" that comes in end of May.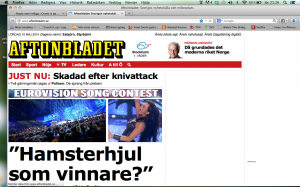 We then made our way to the venune….'Twister':
Very cool place full of musical touches everywhere and it's the first night we were being supported by another female rock  band and boy do they rock! "lizzies"! Fab girls!       
                                                              

The gig was quiet enough as it was a Tuesday but the crowd were amazing We had an awesome show and we all bought a 'lizzies' tshirt to support the girls!
While Javier packed up the van we had some fun with Tildas 'fart app'! We have some very funny videos and poor javier had to listen to fart noises including 'two-tone' and 'wet one' the whole way home!! The poor guy deserves a medal for putting up with us crazy ladies! Think he loves hanging out with us secretly!!
Having a real blast so far and don't want it to end but we are really going down so well in Spain we will be back very soon, wahoo!

Peace out bitches,

Clare xxx