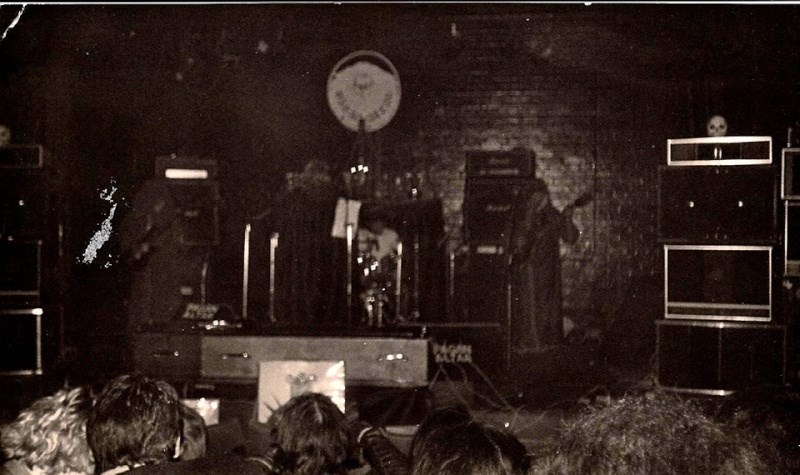 One day we all die. A truth so hard that it is written in stone. Singer Terry Jones was only 69 years old when cancer took him. What he left behind was not just a mourning son and a crushed crowd of fans. He also left this world before the legendary British doom metal band Pagan Altar had the chance to release their fifth record. Now, two years after his death, the world can finally enjoy The Room of Shadows, a swansong from the other side of the grave.
Looking back at those eleven years since the album Mythical & Magical (2006), what do you see?
– After Mythical and Magical things started to take off for us a bit as we started playing live again, says guitarist Alan Jones, son to Terry Jones. We originally weren't going to play live at all, but everyone kept asking us to do it. Those years evoke mostly good memories and some very enjoyable gigs and finally meeting so many people that had been in contact with and supporting us from before.
The Room of Shadows is the end of Pagan Altar and a memorial to your father. What kind of pressure were you under while making the album? You have re-record it at least one time before it is released.
– When I decided to re-record it this year with Diccon Harper (bass) and Andy Green (drums) I wanted to release it on my dad's birthday (24th August) so we did give ourselves a deadline, but there wasn't too much pressure as things went quite smoothly. It was originally recorded in 2014, but this year we went back into the studio and re-did the drums, rhythm guitars and bass.
When I was young I had a recording of my grandfather reading bedtime stories, after he died I could not stop grieving until I got rid of the tapes. I had to let his voice go to let him go. But what are you going through? You will forever hear his voice and be reminded of him. Can you let him go or do you even want to let him go?
– It's not a bad feeling for me. I have always heard him sing whether I am recording or rehearsing so I kind of switch of as it's like work in a funny sort of way and I have to concentrate on my playing while I am doing it as well. It can be hard for me sometimes though when I hear him talking normally on a home video or something because that's when it's out of context with the music and I find that really hard, but if it's to do with the band then it's fine.
What is the earliest memory you have of your father? And what is the last memory you have of your father?
– I can remember him taking me up London when my sister was born. I was almost four years old. We came back home in a black cab. The last memories I have is from the last night that I saw him and I'd rather not talk about it if that's ok.
How far into the recording of the album were you before Terry got to know that he had cancer?
– It was quite early into the recording when we found out. Terry just set his mind on getting the album done in time. Only in a few places you could hear that his voice wasn't quite as strong as before as it was difficult for him to breathe sometimes. Funnily enough it actually cleaned his voice up a bit and made him sound clearer in places as he couldn't push it so hard so you can really here his voice quite clearly on the album and I don't think that's really a bad thing.
The first thing that hit me is that the album is more metal oriented, rather than mystical oriented.
– Nothing was planned as we've always just written what we liked and that's the way those songs came out. I do think there's a mix of all three previous albums in this one. There's the folky beginning in The Room of Shadows and then there's Rising of the Dead which is more heavy and atmospheric. You can't really call Danse Macabre heavy as that's more classic rock with some quieter passages so I think it's a typical Pagan Altar album with all our hallmarks in it.
Pick one of the songs of this album and guide me through its story and why it was created.
– I'd pick The Ripper as me and me dad put a lot of work into it. He'd be phoning me up at all hours of the morning to tell me about a new theory he had on the subject. It was a real passion of his plus we had some of our ancestors living in Whitechapel at the time of the murders. When we actually wrote the song it all happened so fast. It took as long to write it as it does to play it. My dad would write a bit of it that fitted to a riff and then he'd say he needed another bit here or there and I'd come up with something straight away. It's never happened like that before so it felt like the song almost wrote itself.
Your father had a lovely sense of humor. How do you think he would have reacted to the album?
– With a great sense of humor probably! I think he'd have loved it and would be well chuffed. We never argued over the music as we both had the same tastes and wanted the same things. We always knew what the other wanted which is why we wrote so well as a partnership.
So back to an earlier question. This is the end, what now? 
– Well me and Diccon have written some stuff and hopefully we'll get round to doing something with it soon. We've had to take a break with it all to get the Pagan Altar stuff done, but as far as the future goes we'll have to see.
Text: Cecilia Wemgård