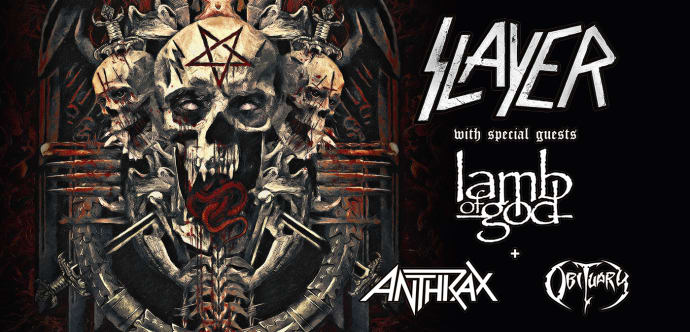 Efter nästan 40 år som thrash-metal giganter, tar ikoniska Slayer farväl med ett sverige-gig i December. Tillsammans med Lamb Of God, Anthrax och Obituary drar det av superturnén Final World Tour och intar svensk mark 5 december på Hovet i Stockholm.
De är upphovsmakare till något av den mest brutala och aggressiva musiken som någonsin skapats. Slayer är ett av fyra band som har definierat en hel genre – en av metal världens The Big Four.
Efter nästan 37 år har bandet släppt 12 studioalbum och vunnit mängder av priser, inkluderat två Grammy Awards. Skivorna har sålt guld flera gånger och bandet har till och med fått en egen utställning på anrika Smithsonian Institute.
Bandet som klätt framsidan på hundratals metal- och rocktidningar och som turnerat värden över framför tusentals dedikerade fans. Men nu är sagan om Slayer slut. För deras sista farväl tar det med sig ytterligare ett band under kategorin The Big Four, Anthrax. Men också Lamb Of God och Obituary.
Vi ser fram emot att få se Slayer på svenska mark en sista gång och ni som läser detta, vill absolut inte missa den här möjligheten!
Biljetterna till denna Final World Tour släpps onsdag 16 maj kl. 09.00 via LiveNation.se
Livefoto: Boris Danielsen, Crank It Up