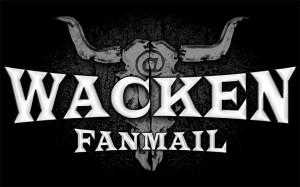 Wackens invånare, festivalens ledning och arrangörer samt tyska emailtjänsten mail.de erbjuder nu alla Wackenfans möjligheten till en egen Wacken-mailadress. Fans kan kombinera deras eget valda namn med ändelsen "@wacken.de". Att öppna ett mailkonto via Wacken kostar 0,99 euro (~10 sek) i månaden och då ingår inte bara mailadressen utan även 1GB lagring och möjlighet att skicka upp till 100MB per mail samt användas via telefonen.
"We really like that the fans can identify even more with our village Wacken and the festival." Säger Wackens huvudarrangör Axel Kunkel.
Wackens organisatörer – Thomas Jensen och Holger Hübner, är också väldigt glada över den här möjligheten: "This is another way for our community to identify themselves with the village. And at the same time they support heavy metal newcomers and their holy Wacken land."
All vinst från Wacken FanMail kommer att delas mellan samhället Wacken samt Wacken Foundation som stödjer osignerade talanger inom rock- och metalgenren.
Sugen på en egen Wacken FanMail-adress? Klicka HÄR!