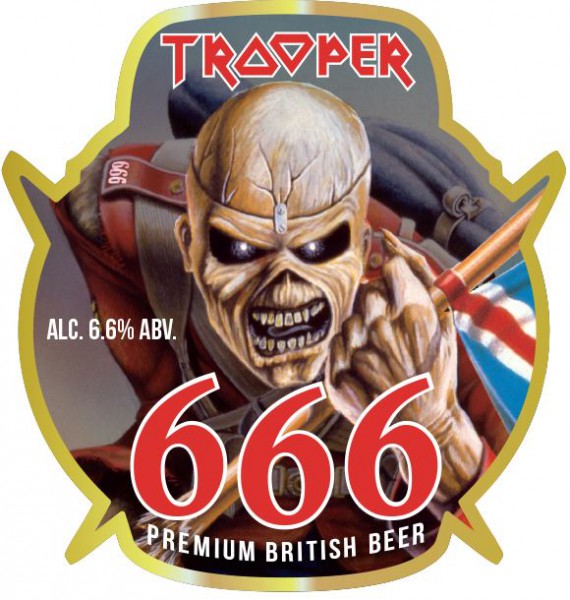 För att fira att bandets Trooper-öl har passerat 10 miljonerstrecket i sålda flaskor (på bara drygt 2 år), kommer en särskild begränsad upplaga av brygden, Trooper 666, att göras tillgängliga för Iron Maiden fans runt om i världen från och med den 1 oktober i år. Dock under en begränsad tid. Den ursprungliga ölen lanserades i maj 2013 och har visat sig vara en global framgångssaga som exporteras till 42 länder och som har redan fått en guldmedalj av Brittish Bottler Institute.
På begäran av fans, och efter den enorma framgången för Trooper-ölen kommer Robinsons Brewery att göra en ännu starkare ABV i begränsad upplaga. Återigen är ölen skapad av Iron Maidens sångaren Bruce Dickinson i samarbete med Robinsons Brewery i Cheshire. Till skillnad från standardölen på 4,7% kommer denna limiterade utgåva att ligga på 6,6%.
Dickinson förklarar: "Our fans have been asking for a stronger brew and it seemed only right to do this at 6.6% ABV! Despite the links with our song 'The Number Of The Beast', the name Trooper 666 has actually come about as a result of some detailed research by historian Terry Brighton, who has shown that there were in fact 666 soldiers that rode in The Charge of the Light Brigade during the Battle of Balaclava in 1854, and not just the 600 of Tennyson's famous poem."
Brighton, författare till "Hell Riders: The Truth About The Charge Of The Light Brigade", hävdar att: "A nominal roll was made at the time listing the cavalrymen present at Balaclava — I then used other contemporary records, of those killed and wounded, taken prisoner, assigned to other duties and so on, to prove who did and did not charge, and amazingly it added up to 666! Remarkably one of the extras was the hungover Regimental butcher, who charged wearing his butcher's overall in place of his uniform, and wielding a butcher's axe instead of a sabre."
"Trooper 666 is the same award-winning trooper recipe but brewed to a higher gravity" , förklarar Trooper Brand Manager John Robinson. "The result is another wonderfully authentic beer that is packed with malt but slightly sweeter than the original. It has a dry finish and is remarkably moreish." Bruce Dickinson tillägger: "I think it tastes tremendous and I personally prefer this straight from the fridge."
Robinsons börjar ta emot globala förhandsbeställningar av ölen i början av juli för att försöka se till att den begränsade upplagan kommer att finnas tillgänglig i lokala butiker i så många länder som möjligt runt om i världen. För att vara säker på att fansen kommer att kunna köpa Trooper 666 så snart den är tillgänglig har Robinsons Brewery arrangerat så att förhandsbeställningar sker direkt via www.IronMaidenBeer.com. Ölen skickas sedan från Storbritannien från och med den 1 oktober och framåt. Fans kommer att kunna hitta återförsäljare och beställningsinformation senare under året.