There have been many queens of heavy metal, but few have the same drive and charisma as vocalist Leather Leone. Whether it is as a solo musician, or the singer of classic heavy metal act Chastain, she is a bundle of joy with the energy of someone half her age. This year she is not only touring the world, but is also releasing two albums; one with Chastain and one under her own name. The first one since 1989. Earlier this summer she played at the Swedish festival MuskelRock and made her presence known to an audience who had almost forgotten her legacy.
Is the new album We Bleed Metal 17 a remake of We Bleed Metal (2015), or can we consider it a new album?
– It's a bit of both and its guitarist and founder David Chastain's idea, laughs Leather across the Skype-line. So what we have here is a re-recording. The sound is close to what it would sound like live and overall there's an improvement.
Chastain does not tour, but you, on the other hand, are out with your own band playing both new and old songs from your years in Chastain. Doesn't David have an opinion on that?
– I am free to do whatever I want and David Chastain says; "You go out and tour and I sit here and sell the records". He doesn't mind at all. It's been an understanding between us since Surrender To No One (2013). He does not want to tour, but he obviously helps me find opportunities. I am just excited to start doing my own stuff with my new band so this is just a doorway into that so people know that I'm back.
And you haven't found it frustrating to never be able to tour with Chastain?
– It's not frustrating at all. It was a little frustrating until I met "the boys from Brazil", as I like to call the guys in my band. Now it's just excitement and anticipation. I just want to keep on working with them. The next record is being mixed and mastered now so hopefully, by the end of the year, it will be released.
You left the music scene between 1992 and 2011. Then suddenly you came back from nowhere, from zero to two hundred.
– I know. Laughs. That's just how my life goes. I shut the doors and stop things immediately. Cut and dry! Then I start things the same way. It seems that way, but it really took me a long time to come back to it. I've been extremely blessed being able to do this and also being in shape to do this. But that is how I live my life. From zero to two hundred.
Didn't you work a lot with dogs during your hiatus?
– I worked with animals and I still do. I'm into animal medicine. The only things I've really enjoyed in life is music and animals. Of course I was from upstate New York, which is total horse country, and when I got off the road with Chastain I was really looking for something to do. I saw an ad in the paper and it ended with me working in an animal hospital. Across the street someone found a pit bull puppy and that changed my whole life. I met the breed and I fell in love with the breed. That was how I got into it and I haven't left since then.
– Of course I don't own a dog now because I'm touring so much, but pit bulls are totally metal. They are the underdogs, frowned upon yet great and creative. They have been my best friends in life. I was actually talking to a friend of mine and I don't know how much longer I can go without one. I think I lost my last one about four years ago. But you know, it would not be fair to have one right now as I'm not home that much. I love the breed and I will definitely have one before I hit the dirt. I will probably have tons of them before I hit the dirt.
Does it ever piss you off that people still see the breed as monsters?
– Of course it does. It's just like metal music and the scene in the 80s. People hate what they don't understand, but I don't get pissed off anymore. I educate them which are all you can do.
If we go back to the album, in the song All Hail a tribute to Ronnie James Dio?
– That's a David Chastain song so it's not about Dio at all. David is obviously intrigued by war, Armageddon and the ways we destroy each other and the planet. So, it's not about Dio but rather about keeping the masses going. He actually just said to me recently that the song would have been called All Hail the Queen so in the end of the tour I would sing that instead of; "all hail the king". So no, it's not about Dio.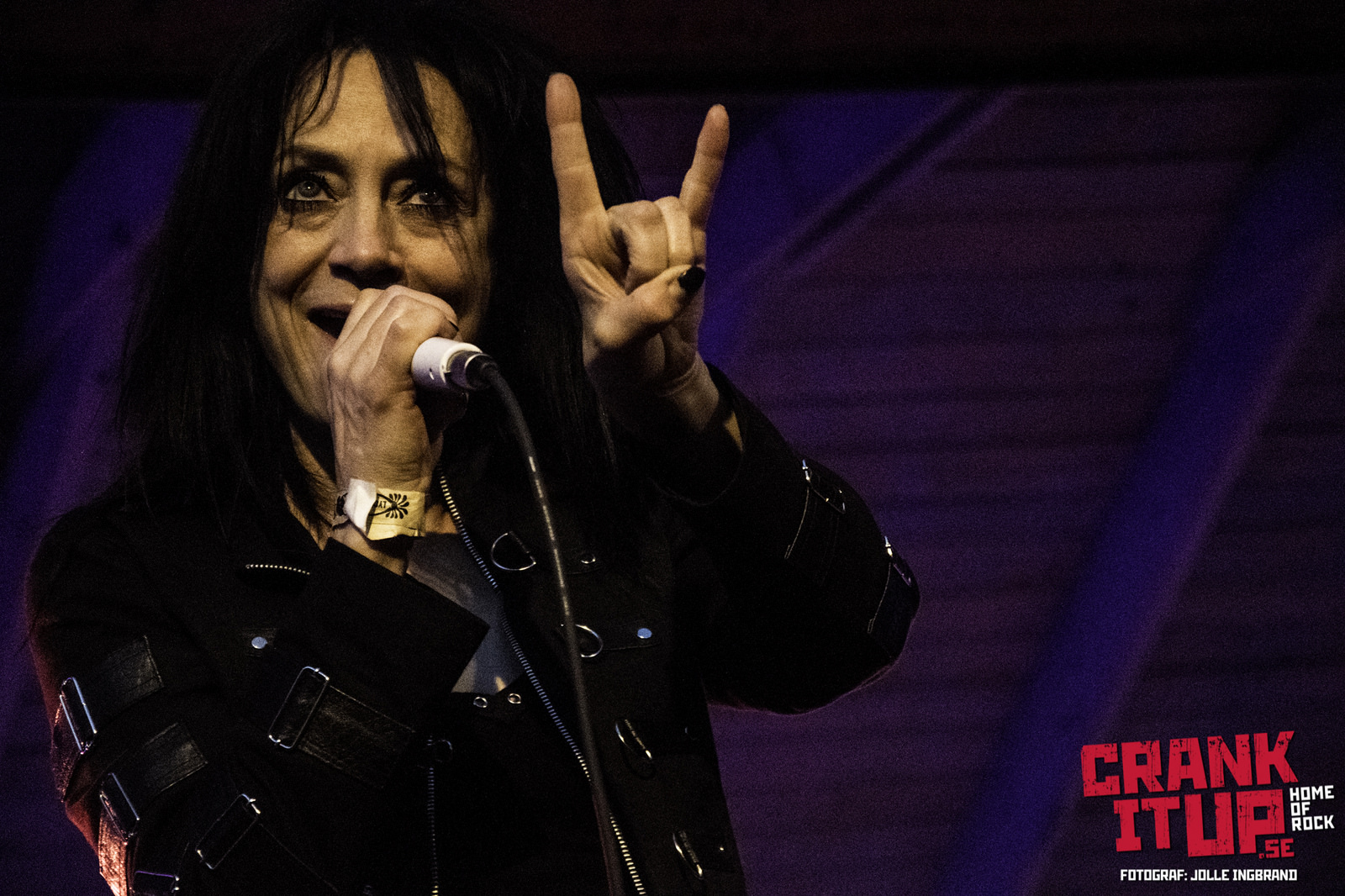 But Dio and his legacy does mean a lot to you?
– It's still so bizarre because I still talk about him like he was alive. It's not like we were the best buddies and I could call him up for a lunch. He was just in and out of my life so much. It's still so gut wrenching. I looked up to him so much for knowledge, strength and inspiration. It has been seven years since he passed away and it's a somber feeling. I think of his family.
– I really can't explain what it is about him. The moment I met him there was a spotlight on him. I've probably known him before in another life. Back then when he died, I really didn't want to talk about it because there were so many people jumping on the Dio-bandwagon. I didn't want to be one of those people. But I went down to the funeral to hang with some people and it was through that we had some conversations. I kind of felt really shameful that I was dealt this gift of being able to sing and then I just stopped doing it. In one of the last times that I saw him he actually said to me to never stop with my gift.
Earlier this year you performed at the Swedish festival MuskelRock. What really surprised me was that you were all over the stage- It was almost like you were doing an aerobic workout.
– I can't stand still. Laughs. That's just me. As I'm talking to you I am pacing high wired around in my apartment. I can't slow down. I had a conversation with my mother and she asked me to talk slower. It' just my metabolism. I go and go and go. I don't sleep very well, so yeah, I'm pretty crazy.
I was going to ask you if there's any difference between Leather on tour and Leather back home, but you kind of answered that question already.
– I am the same person except when I'm on the road there are no medical uniforms. I listen to loud music everywhere. My boss is extremely cool and we listen to anything from Dio to Killswitch Engage. I'm just a metal chick.
Tell me more about your upcoming solo album.
– Oh, I'm just so freaking excited. The album is going to be straight ahead, no bells and whistles, metal. It was a labor of love, believe me. When I actually met the new band we hit it off instantly. I was latterly home for just a day and then they started to send me tracks. The guys are extremely motivated; they are young and just want to play. They are not necessarily metal heads and play all sorts of music. Except our drummer because he's totally a death metal drummer. It has been so long since I actually wrote a record.
– It is very interesting because (here Leather starts whispering) I felt like shit and wondered if I would be able to do this. I had some vocal problems recording the original We Bleed Metal-album. My voice wasn't doing very well, but then again, I started running and signing again big time. I had a lot of anticipation and a lot of nerves but that just fuels me. As soon as I get in and sing it gets over. It was exciting, but the studio, as everybody knows, is not my favorite place. It's always a bit of a challenge for me. I do everything by ear and as I sing my ear isn't always in key. Laughs. It was a great experience and I'm going to keep doing it with those guys.  I love my new metal family.
Text: Cecilia Wemgård
Photo: Jolle Ingbrand