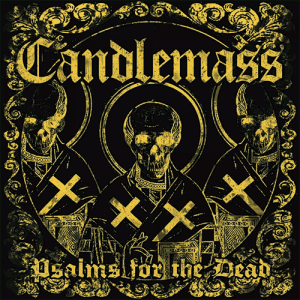 Från Candlemass.se:
"We are sorry to inform you that Robert Lowe is no longer the singer for Candlemass.
It has been a very difficult decision for the band and has mainly to do with the quality of
the live performances. For the upcoming shows Robert will be replaced with Mats Levén,
longtime friend of the band. We are convinced this will work out just great. The band is
currently rehearsing new and old songs with Mats and we know that nobody attending the gigs at Debaser Slussen, Metaltown, Borås or Southern Discomfort will be disappointed.
Bring you earplugs….it will be hard, massive and loud! Keyboard player Per Wiberg is also joining Candlemass onstage for the live shows.
PSALMS FOR THE DEAD…..NOTHING ELSE REMAINS!"
.
Candlemass, som släpper albumet Psalms For The Dead den 6:e juni, har nu alltså den fantastiske Mats Levén på sång!
.
Spår på skivan:
PROPHET
THE SOUND OF DYING DEMONS
DANCING IN THE TEMPLE (OF THE MAD QUEEN BEE)
WATERWITCH
THE LIGHTS OF THEBE
PSALMS FOR THE DEAD
THE KILLING OF THE SUN
SIREN SONG
BLACK AS TIME
.
Deluxe vinyl bonus tracks:
SADNESS RUNS DEEP/BENEATH THE FIRE
.
Härnäst ser vi Candlemass på Debaser Slussen; releasefest den 5:e maj och sedan på Metaltown!
.
.