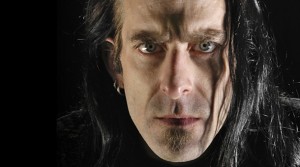 Sommaren 2012 satt Lamb Of God's frontman och sångare Randy Blythe häktad i Tjeckien. Anledningen var en incident som skedde 2010 på en av bandets konserter i Prag, då en 19-årig man lyckades ta sig upp på scenen. 19-åringen knuffades av scenen av Blythe och slog sig så allvarligt att han senare avled. I över en månad satt sedan frontmannen häktad misstänkt för dråp innan han släpptes mot borgen.
Under tiden han satt häktad såg han till att skriva mycket, och nu kommer dessa memoarer släppas som bok. Blythe har själv skrivit såhär på kontraktet;
"While I've dreamed of being a published author almost since I began to read, I never imagined my first book would center around such a sad topic. Sometimes though, life unexpectedly provides you a story that needs to be told. I believe this one does (for several different reasons, not just for the benefit of myself), so I will tell it with the respect and dignity all involved deserve. This will be a good read, I promise you, and I hope some good comes of it."
Boken, som Blythe skriver helt själv utan medförfattare, planeras släppas under våren 2014.