We woke up in Barcelona on a shiny day. Apparently we were very lucky with the weather, local people told us this was the first nice day in a longtime. Hard to believe i think while I look at my arms and legs totally sunburnt from the day before on the beach…seriously i can cook eggs on them!!
Over our caffe con leche and croissant (typical spanish breakfast) the next morning we recall on the memories of a great rock n roll night.
Hard Buds were the opening band. Straight forward rock n roll band, very friendly and polite guys with attitude and lot of enthusiasm on and off stage! They put on a great show and people loved them! All of a sudden the pub was fully packed, the crowd was warm and ready for Thundermother!
It was so fun to play for such a great small audience! Their energy and passion was so enjoyable!
At the end of the show we tried our brand new 1 meter "selfie-stick" to take the classic picture of us with the crowd behind. Here's the result…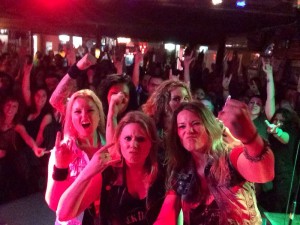 Ok we have to practice with that… 😉
After the show we got "assaulted" at the merch table! People were so happy and couldn't wait to talk and take pictures with us! We signed CDs, posters, T-shirts, drumsticks, took tons of pictures and talked with all of them until the pub closed. Wow what a great warm welcome! Thank you Barcelona, It was just awesome!!! 🙂
On the road to Zaragoza the morning after, everybody are sleeping in the van while i enjoy the view from the window. Those beautiful hills and fields of vineyards remind my hometown Valpolicella, (Italy)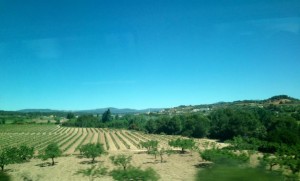 I close my eyes for a little and when i open them it seems to be in a Tarantino movie set!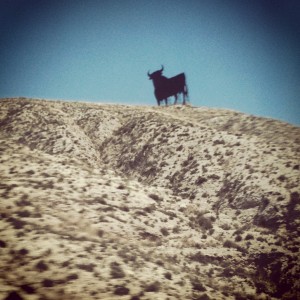 We arrive in Zaragoza, it's 14.00, lunch time! Our fantastic tour manager Javier, his assistant Sandra and their friend Luais have the brilliant idea to bring us to a cosy restaurant. We are excited to try Paella!!
That was just one of the main courses. The second course came immediately after, red wine was pouring like a river in the desert, and again dessert, coffee and of course liquor! Then we rolled down (literally) to the venue to do the soundcheck 😉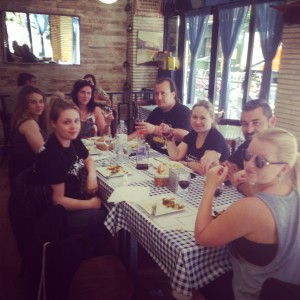 It´s 22.00, the venue is crowded. We had a funny interview over a 2 liters of sangria before dinner and now we can't wait to hit the stage! We are very happy because in the afternoon we got an amazing news! We are confirmed at "Hard Rock Hell" in north Wales in November! Finally we are going to play in the UK!!
Another great night! The audience in Zaragoza, is loud and wild and we had a blast!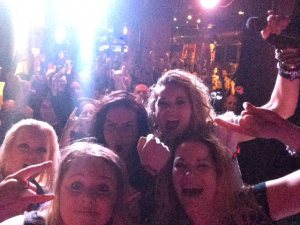 And more great time with the fans signing stuff and taking pictures. We realized we sold almost all the CDs, we have only 5 left and it's only the second gig..!
Day 3
Today on our way to San Sebastian we visit a famous wine cellar in Rioja, the owner is a friend of our tour manager. We are all wine lovers in the band and we decided to leave the hotel earlier to make this new experience! While we are waiting for the guide to explain and show us the whole process of bottling, labeling and boxing, we just look around, all these weird and curious machines. Filippa is stoked to be there, she is a big fan of Rioja wine, she is so excited that can't stand still and starts to do some butt exercise with a big envelope of corks! I never seen her so happy in working out 😉
The tour in the big wine cellar begins, we are totally amazed by these huge iron barrels, each of them contains 6thousands liters of wines. The whole factory has between 5 and 6 millions liter of wine.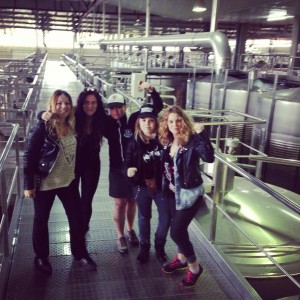 The icing on the cake was a table full of bottles of wines, patatas tortilla, Serrano ham, cheese slices and bread. What a treat we had!
Happy and tipsy we are on the van again, tonight we will rock the venue where Korn and other big bands played!
Food and Rock n roll FTW!!
//Giorgia